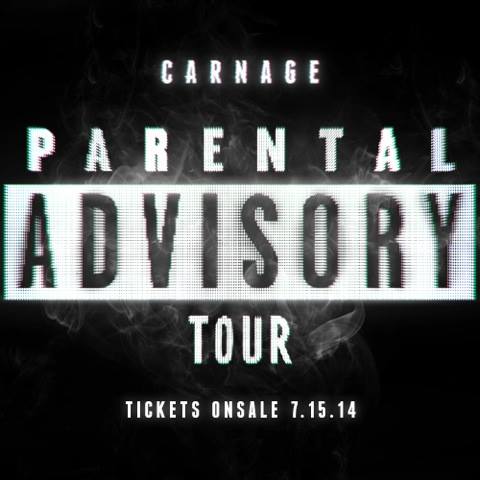 On Tuesday, July 8th, the EDM juggernaut known as Carnage announced his upcoming tour for this fall. This tour will be Carnage's very first North American bus tour. Carnage has exploded within the last 8 months with his unforgettably epic sets. Carnage played his first festival at Ultra Music Festival 2013 in Miami, where he had an early 2 PM time-slot. For this year in 2014, things have changed dramatically for the DJ. Carnage went from playing that early slot in 2013 in Miami, to headlining Ultra Music Festival Miami this year with a prime-time spot. Within exactly one year, the founder of Chipotle Gang himself has went from opener to headliner of major music festivals around the globe.
Everyone has been on the edge of their seats to see when and where Carnage will be playing next. This was the moment that Chipotle Gang USA has all been waiting for. Carnage took to social media around noon Tuesday announcing his tour along with a preview video. Below is his tweet announcing the tour and you can check out the cool video as well.
I'm proud to announce chipotle gang….. that this fall i will be embarking on my first north american bus tour……. http://t.co/sEu4ouCO6K

— THOTTIE PIPPEN (@djcarnage) July 8, 2014
Stay tuned for dates and locations to be announced next week on July, 15th. If you are apart of the Carnage Fan Club, you will be able to purchase tickets on the day of the dates announcement. Full sale of tickets will be released on July, 24th.