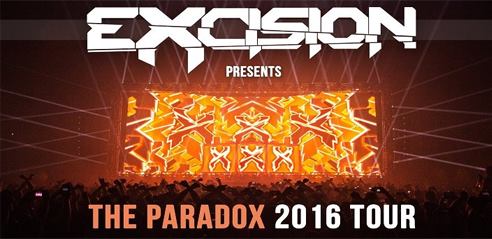 Atlanta, it's almost that time again to get X-Rated this weekend with the Executioner! This Friday night, Jeff Abel, better known as Excision, will be presenting us with his explosive new Paradox Tour. With his mind-blowing stage production and his heavy hitting 150,000 watt PK sound system, Atlanta is in for the show of a lifetime.

Atlanta is one of the fifty plus stops on Excisions North American bus tour. Excision's infamous headbanger fans of ATL will be ready to throw it down on the floors of The Tabernacle. Joining the stage with Excision will be Figure and Bear Grillz bringing their unique styles of bass music to set the tone for the rest of the night.

Excision continues to create jaw-dropping productions for each of his last few tours. Jeff and his crew have outdone themselves with this incredible stage set up. It is arguably one of Excision's best productions yet. Paradox is a magical mixture of all Abel's ideas molded and then executed by his very own dream team.

The dubstep phenom will unleash his beast this Friday. This awe-inspiring experience is not something you will want to miss. Let the face-melting, booty bouncin' blast off begin. Let's get ready for the big night with jamming some Excision tunes. Check out his latest Shambhala 2015 Mix to prepare for the madness. Tickets are still available at Live Nation's website, but they are selling fast. To purchase tickets for this show, please visit: www.livenation.com.


Author: Sage Schoppmann