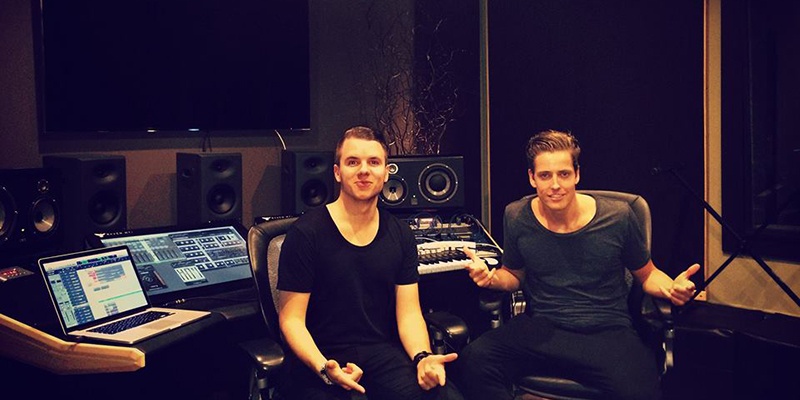 Sick Individuals are a house music duo from the Netherlands that have really made a name for themselves over the last couple of years. They were first discovered by Hardwell and were signed to his very own Revealed Recordings label, which has grown exponentially since its birth in 2010. Sick Individuals consists of two producers by the names of Joep "Jim" Smeele and Rinze "Ray" Hofstee. The two have traveled all over the world, playing at several major music festivals and big time club venues. They have also worked with many high-profile artists such as Dannic, Hardwell, Axwell, and W&W, just to name a few. I had the pleasure of being able to interview just one half of the Sick Individuals duo, Jim Smeele, when he came to play here in Atlanta at Havana Night Club.


Is this your first time playing solo as Sick Individuals without your partner Ray?
Yes, actually. I miss him very much. He has not been feeling well, so he could not make it to the show tonight. He's a real sick individual, if you know what I mean! [Chuckles at his pun]

Let's talk a little about before you two became Sick Individuals. What were you doing then?
I met Ray while we were in art school, and we just started making music together in the beginning. We ran a little company together making music for TV commercials like McDonalds, Audi, and other big companies like that. That's how we made our money to pay for studio equipment.

That's how it all started for you two?
Yes, exactly! One night we began making house music just for fun. We decided to send our work out to some labels and they picked it up very quickly. At first, we were on a much smaller label, but then Hardwell discovered us and that's how we got signed to Revealed Recordings. Now we are releasing music on that label constantly.

With all these new trending styles in electronic music, how does Sick Individuals plan to adapt with the changes?
That's a good question. A lot of DJ's around me are asking the same thing. The harder sounds are not as popular, but we never really went for the mainstream EDM sounds. For us, we have always had the groove in our music. I think the groove is definitely coming back for sure. The really aggressive sounds are honestly only for festivals now and not as much for the club. We are really okay with that. We don't consider our style as aggressive at all so we won't have to change much.

With that being said, do you prefer playing in a club or festival environment?
After each winter season, I always say that I want to do another festival again. Then I enjoy playing festivals during the spring and even summer months. But later in the year, I always like to play in the clubs. I think the combination of both keeps it interesting. But if I had to choose only one, I would have to pick a festival. They are so fun to play at! The clubs do make more of an intimate environment so you can be closer to the fans and you can also play more freely.

Are you currently working on some new club sounding music?
Right now we are working on some new radio material, so that is a bit different for us. I think over the next half year, you can expect to hear some new radio production coming out as well as some more club sounding records that have some groove and are a bit more melodic. I'm excited to get some new music out there.

You guys have teamed up with many big names in electronic music like Dannic, Hardwell, Axwell, and others, who has been the most fun to work with in the studio?
The most exciting for us would be Axwell, because he is like a hero to us and we love Swedish House Mafia. To work with him was such a big honor. As for the most fun, I think it would have to be Dannic. We know him really well and we are the same age. So we became friends over time and we've even toured together. We would spend a lot of time together and make great music, of course. I think next year we will do another collab because we work so well together. I think 'Blueprint' went number 1 for a minute.

That's good to hear! Blueprint is one of my favorite tracks from you guys.
Yes! It is one of my favorites too. I still enjoy playing it. That was actually our first release on Revealed.

When you are playing a set, whether it is a festival or club, what is that one song you are just excited and amped up to play for the crowd?
Honestly, it's usually a new song. I always get excited to play one of our newest releases or a track that we have just finished. 'Drive' is now out on Revealed Recordings which gets great reaction. Also we have another new track with DBSTF coming out in January of next year. I get excited to see the crowd's reaction to our new tracks.

I saw you guys play at TomorrowWorld in September. Great set by the way! I remember hearing you say that you liked hardstyle on the mic, and you played some for the crowd. It's interesting that you like hardstyle. I feel like it doesn't get a lot of love, and it's something that EDM fans don't quite understand yet.
That was actually Ray who said that. He is usually always on the mic, so I never really have to say much. And yes, I do love hardstyle. I think we played the hardstyle remix of 'Blueprint'. Hardstyle is fun because there's a lot of energy and it's very aggressive.

Besides producing house music, are there any other genres that you would like to try just for fun?
I would say trap music. It is actually really fun to make. It's all about the production as well. I think that with trap music, it has that wow factor because of those heavy sounds. I've never made it myself, but I have a friend who produces trap music so I get to play around with it a little. I noticed that people really like that kind of music here too.

So tell me a little about ADE. It's like the mecca of the electronic music industry, mainly on the European spectrum of EDM. How awesome is it to be part of that?
It's getting more awesome every year. It's really good for the business side of things. For networking, it is great because literally everyone is there. Now ADE is becoming more important because everybody comes together. Like EVERY big DJ is there for that party. There are tons of announcements and new releases from producers. When we first started going, it was a lot of just walking around and networking with people and trying to give our demos to anyone we could. Now we are doing more interviews there and we're getting to play more shows.

Having it in Amsterdam must be really fun because it's close to home.
Yes, that's what makes it fun because it is so small. The clubs are not very big there, and guys like Tiesto, Hardwell, and Martin Garrix will come through and play at some small venues which which is really cool. It's just one big party with everyone there.

Take me through an ideal day in the life of Jim Smeele of Sick Individuals.
Wake up early in the morning around 9. For around the first hour or two, I'd like to be alone to gather myself and soak in the new day. Of course, have a nice breakfast to get started. Go to the gym and work out for an hour, because you have to get the blood flowing. Then I would go to the studio for a few hours and finish that off with a good lunch, maybe with some friends. Then go back to the studio and complete a new record. A great day for me is if I can do something creative. It makes me happy when I know that I've done something creative for the day.

Lastly, I've been curious to know where you got the name Sick Individuals. How did you come up with that name?
It started with three people in the beginning. He was always an MC with us. Every show we did he would shout into the mic, "Are you ready for a new sick record?!" Or, "These guys are sick!" He would even say, "These guys are true sick individuals!" So he was always using those words to describe us. Then other DJ's started calling us that and they would tell us that we were sick. So that's how it became our name. We liked that because we wanted something to signify us as a group and not our actual names as a duo.

Check out their latest year mix of all the top house music hits of 2015!