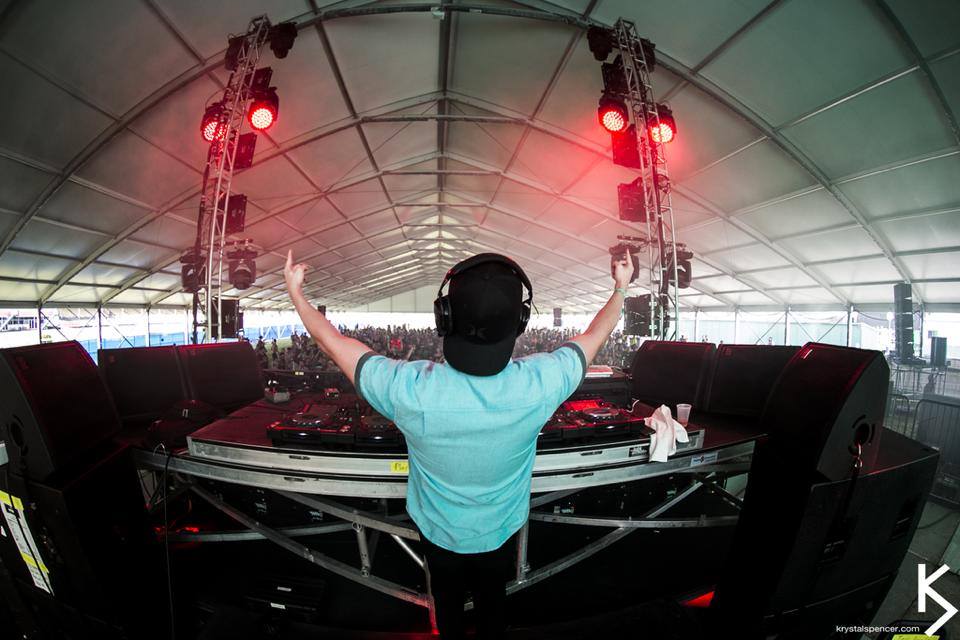 There is a new artist on the horizon for house and progressive music, and that artist is Digital LAB. Jared Matos, aka Digital LAB, is said to be one of the household names in EDM. The Miami-based producer plays a blend of house, progressive, and electro, and is very impressive at doing so. He definitely has more than his foot in the door to be at the forefront of this exploding industry we call EDM. With SiZe Records being his most recent signing, Digital LAB's productions have been released exclusively on some prestigious labels such as Vicious, MixMash, Dim Mak, Spinnin' Records, Superstar Recordings, Ultra, and Nervous Records. His music can be heard in the sets of some massive names in the genre. Artists including David Guetta, Kaskade, Laidback Luke, Dimitri Vegas & Like Mike, Axwell, and Sebastian Ingrosso, just to name a few. As of his latest production, "Hit It!", which was a collab between GTA and Henrix, reached to the #2 spot on the BeatPort top 100 chart. Digital LAB has made his way onto many large music festival main stages like TomorrowLand, EDC Puerto Rico, TomorrowWorld, and now Moonrise Music Festival in Baltimore.


Just recently, I was at Moonrise Music Festival in Baltimore; and I got the chance to chat with Jared just after he played an incredible set there. Here is the interview with Digital LAB below:
I recently saw that Kaskade and Laidback Luke stated that you were the "next big thing" in EDM. How did that make you feel with two superstars making a statement like that about you?
*Chuckles*
It's huge for me. You know, you just start off making music that you like, and you don't expect big guys to actually be into it. I started off actually sending in some tracks to Laidback Luke's forum where he accepts tracks from unknown producers. So immediately he was into my music and sort of made me his "up-and-comer." Kaskade actually searched me out after he had been playing one of my remixes for about a year. It was a remix called "Everyday," and he liked it so much that he found me and told me he liked my music. He then introduced me to his manager who is now my current manager, so it has just went from there.
---
When exactly did you start producing music?
I would have to say around three or four years ago. That's right around the time that Kaskade and Laidback Luke discovered me, too.
---
What was it that got you to start producing house music?
I always loved electronic music, like trance… I was a huge trance-head in the beginning. Ferry Corsten, Mauro Picotto, Paul Oakenfold, Paul van Dyk, all those guys were my number one. The mid 2000's was right when I was into it, I'm telling you, it was awesome.
*we fist-bumped* (I am also a trance lover, and we sort of bonded at that moment when he said he loved trance.)
I was a big fan of the movie, "Groove," which is a movie all about the trance scene and that got me to love trance even more.
---
What other festivals have you played at besides here at Moonrise?
Well this one, I've done Boonstock, and EDC Puerto Rico. Oh, and can't forget TomorrowLand and TomorrowWorld as well.
---
On that note, I have to ask you, how was TomorrowLand? Was it awesome?
Oh my gosh, TomorrowLand was THE crazies sh*t I have ever seen. Like it was one of the most exhilarating experiences of my life. Funny story about TomorrowLand. I used to wear glasses, and I did a stage dive there, my first ever stage dive, and a fan took my glasses right off of my face.
*Starts lauging*
So lesson learned, don't ever wear nice things while stage diving. Some crazy person will steal it.
---
So I take it that TomorrowLand was one of your favorite festivals to play at so far?
I'm going to have to say, yes, that is one of my favorites so far. Like, I'm telling you I was playing in front of around 25 thousand people there. It was one of the coolest feelings ever because that year, Alesso opened for me.
No kidding! Alesso opened for you?
Yes! It was around three years ago, when he was just getting big himself. Like, don't get me wrong, I respect the guy 100% and he's the sh*t. But yeah, Alesso actually opened for me. Which was a great feeling because he is massive now.
---
How does it feel to watch your music get played by some of the big names like Axwell, Ingrosso, D Vegas & Like Mike and so on?
It is the best feeling, really. All of those guys have always supported me. Like Dimi & Mike and Axwell played my music like my "Everyday" remix and "Hit It!" all the time. Like hearing all those guys play them is awesome, and it's always good to know guys like them have your back as well.
---
That has to feel amazing when you hear your music in their sets.
It does, it really does. But then again, the better feeling is when YOU get to play it in front of all those people. That is a feeling that is indescribable. Like when you get to that point, it's amazing.
---
Seeing that you have already a chart-topping track, "Hit It!", which made #2 on Beatport's top 100. Can you tell us what else you have in the works as well?
Yes, of course. Actually I just released a remix I did for Kaskade called "Why Ask Why," which I have been working on for a while and a lot of people have been waiting on that. So my next release is on Dim Mak and it is a track called "Wick It," which is going to be a big one. Then I am working on a track with Henrix on Sony that will be released shortly after. I have a single on Vicious called, "In Your Face" that will be coming out after that. I also have a single coming out on a big label that I can't say much about, but it's coming soon. So for now, I have to keep it a secret.
---
Besides the glasses incident from stage diving, what is the craziest thing you have seen at a festival during your sets?
The craziest thing? That's easy… Naked women!
*Starts laughing*
Naked women would have to be the crazies thing I've seen. Like multiple girls just straight up flashing their boobs and it was pretty funny. When that happened, I thought I had made it. Like I'm there, man, when girls want to show their boobs… That's it, you know you've made it.
*Laughs more*
---
Do you have any up-coming shows or festivals you will be at that you would like to share?
Well after this, I'm heading out to Vegas and I will be headlining the Day Club and I'm also playing at the Marquee. Then after that, I fly over to L.A. to play at a club called Sutra. Then I get right back on a plane to go to L.A. to play with Kaskade. It seems like a lot, but I am wanting to do as much as I can because I love it.
---
Lastly, who is your favorite artists in EDM and outdide EDM?
Any artist? Without a doubt, M83. I love rock as well as indie, like I'm really big into indie music. So non-EDM favorite is M83, and for my favorite EDM artists would have to be Axwell. He's my favorite because he can play whatever he wants, and still keep the crowd dancing.
He is amazing solo, but I will say that I miss Swedish House Mafia. 
They'll come back… Don't you worry, they'll come back!
*Chuckles*
---
Check out some of Digital LAB's work below:
[soundcloud url="https://api.soundcloud.com/tracks/161026675″ params="color=ff5500&auto_play=false&hide_related=false&show_comments=true&show_user=true&show_reposts=false" width="100%" height="166″ iframe="true" /]
[soundcloud url="https://api.soundcloud.com/tracks/78934346″ params="color=ff5500&auto_play=false&hide_related=false&show_comments=true&show_user=true&show_reposts=false" width="100%" height="166″ iframe="true" /]
[soundcloud url="https://api.soundcloud.com/tracks/146114675″ params="color=ff5500&auto_play=false&hide_related=false&show_comments=true&show_user=true&show_reposts=false" width="100%" height="166″ iframe="true" /]
This was a mix that he released especially for Moonrise Music Festival:
[soundcloud url="https://api.soundcloud.com/tracks/161970787″ params="auto_play=false&hide_related=false&show_comments=true&show_user=true&show_reposts=false&visual=true" width="100%" height="450″ iframe="true" /]