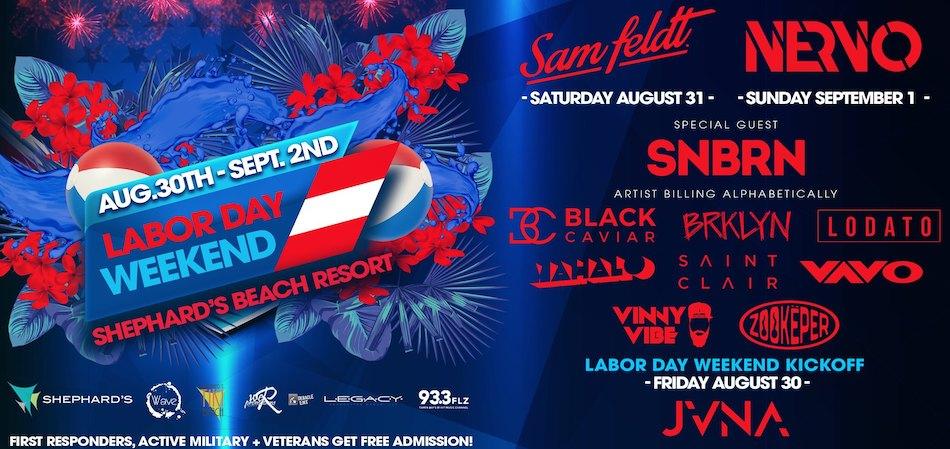 (Clearwater, FL)- While most of the attention of the Tampa Bay area has been focused on the looming storm, Hurricane Dorian, which is churning its way across the Atlantic, this massive weekend of music at Shephards Beach Resort is here to ease the tension. Every year, the team of We R Promotions and company puts on an epic Labor Day Weekend party, and this year will be no exception. For the 2019 edition, the resort will feature headliners Sam Feldt, NERVO, and SNBRN, along with a slew of other incredibly talented acts to boot.

To kick off the weekend on Friday, the tiki beach bar will host Jason Parker Band, New Divide, and DJ Ray to close out the evening. While over in the Wave NightClub, there will be DJ Valet, Brandon James, and JVNA, and this is only the beginning.

Saturday's lineup is when things start to heat up with the highly anticipated headlining act, Sam Feldt. This young Dutch house music producer's had a sizzling 2019, coming in hot while just recently achieving a massive milestone of 1 billion plays on Spotify. This acheivement comes off of the help of his most recent global hit, "Post Malone," which has reached over 80 million alone. Since his debut to the EDM industry in 2014, he has written hit after hit and captivating live audiences with amazing DJ performances ever since. Joining him to open up the Saturday festivities will be Impulse, New Divide, Vinny Vibe, and BRKLYN, with Brandon James to close out after Sam.

Sunday will not skip a beat with even more music to keep the party going. 93.3 FLZ DJ will kick off the Sunday Funday at noon. There's going to be a live hybrid set from your local favorite, Cutty Jones. We will also get a redemption show with SNBRN, which some may remember the unfortunate cancellation of his solo run at Shephards that was supposed to take place a few weeks ago. The headlining act that has perked up some ears since the party's announcement, NERVO, will cap off what will be an EDM plethora of a day.

The NERVO twins have been firing on all cylinders like always with a massive year of touring and releasing some new tunes over the summer months like "Sober," "Emotional," and "Worlds Collide." These talented females are no stranger to massive stages like TomorrowLand, Ultra Music Festival, EDC Las Vegas, and more. Don't skip on your chance to see them perform on a very intimate stage setting of the Tiki Beach Bar at Shephards, because you won't be this up close and personal with the twins anywhere else in the Tampa area! Check out our very recent interview from the Atlanta stop with the NERVO twins here. You can view the entire weekend lineup for Shephards below, including the set times. To get a full weekend pass, which is a hell of a deal at $30, please visit the event page by clicking here. But you have to hurry, because sales end very soon.