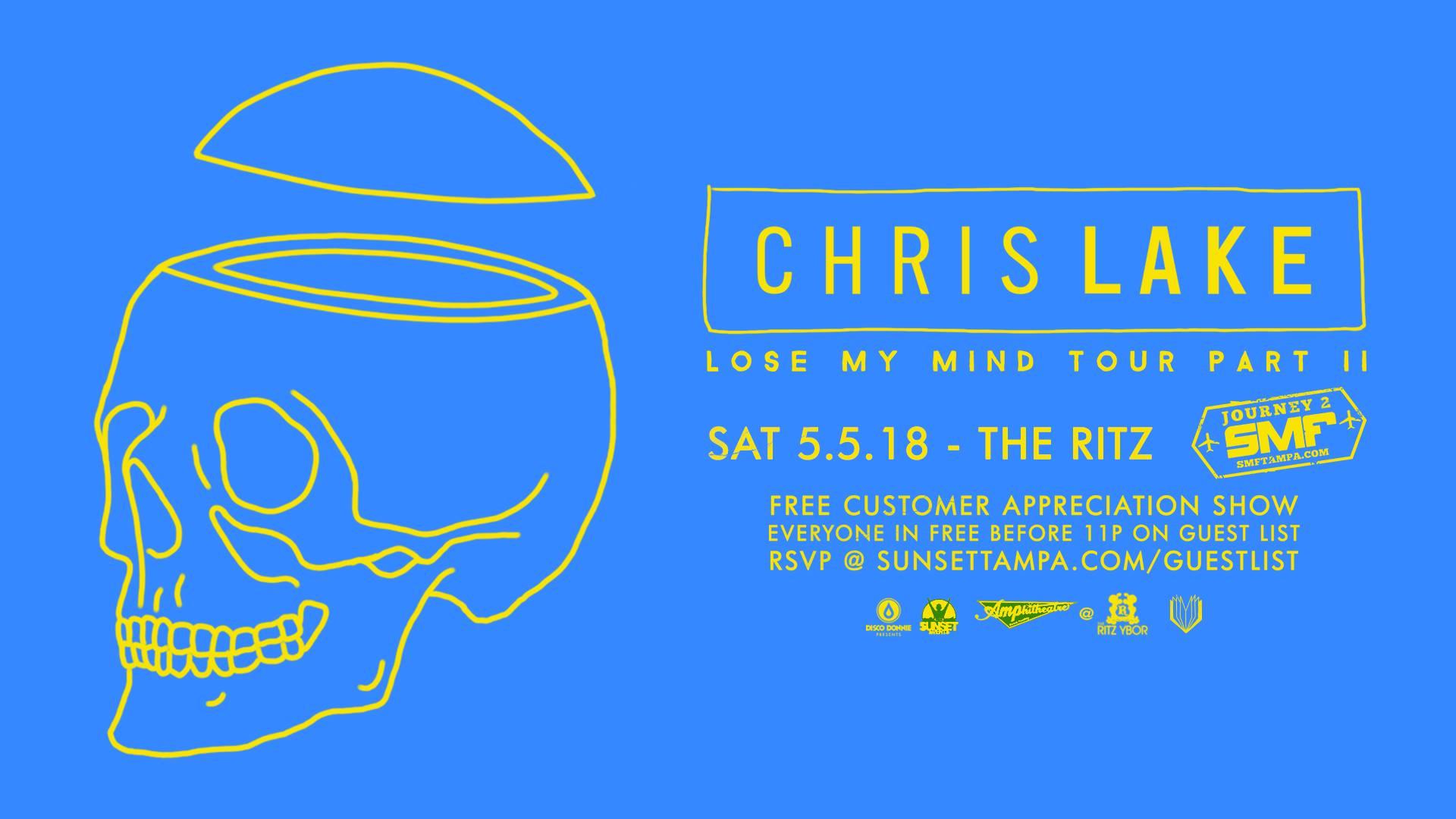 House music fans in the Tampa Bay Area are in luck this weekend for the upcoming Cinco de Mayo festivities around the city of Tampa, FL. This Saturday, May 5th, of course, Ritz Ybor will be hosting a Cinco celebration with the thumping house tunes of none other than Chris Lake. And by the way, it's a free guest list show (until 11pm)!

Sunset Events and Disco Donnie Presents, the force behind Tampa's Sunset Music Festival, are hosting a special customer appreciation show to get fans ready for Sunset Music Festival 2018 with the Journey 2 Sunset Music Festival circuit. This event is a part 2 sequel of the Lose My Mind North American tour from late 2017 including headliner Chris Lake, and some talented local support from Ritz Ybor residents Christian Alexander & Lizzy Jane.

Although he has been a pioneer of many genres of dance music for nearly two decades, particularly in house music as of late, Chris Lake has consistently pushed his name to new heights in recent years and he's still on the move. Fast forward to 2017, which was a huge year for the Grammy nominated producer. In January of 2017, he launched his new label, Black Book Records, where he debuted his hit single, "Operator" ft. Dances With White Girls, and it quickly took the scene by storm and earning it the title of the Holy Ship! anthem. Adding more fuel to the 4×4 flames Lake teamed up with Dances With White Girls once again with "Give Her Right Back."

To cap off the last half of the breakout year for him, Chris Lake, came through with a massive track released on Insomniac Records with Chris Lorenzo, "Nothing Better," which became a booty shaking house banger for months to come. It's still one of our favorite house jams right now with those catchy vocals and deep bass heavy synths. Over the last year Lake's groovy and funky beats have been moving dance floors all over the world, and he hasn't put the brakes on yet. Last month, he delivered a romper tech house style tune once again on his Black Book Records label titled, "Lose My Mind," that has been gaining tons of DJ support from big names in the house music realm of EDM. With loads of support for his tunes, and his keen talent to keep the room dancing as a DJ himself, Chris Lake is one of those must-see acts for this current season of live music.

With a plethora of new tunes that have blown the lid off of the house music scene in dance music for a couple of years now, don't expect Chris Lake to go quietly any time soon. If you are a house music lover in Tampa, there should be no reason why you wouldn't find yourself at Ritz Ybor this Saturday, especially since you can attend this show for free to see an incredibly talented DJ and producer like Chris Lake perform. You can put your name on the free guest list by posting an RSVP to the Facebook event page here: "Chris Lake – Lose My Mind Tour Part II – Tampa, FL." You have up until 9PM the night of the show (Saturday) to secure your spot, and you must show up to check in by 11PM.

Add your names to the guest list before 9PM night of show to achieve special benefits! Post your name to the Facebook event page wall to be guest listed. You must tag your Facebook profile & list your name as it appears on your ID (if different), and you have to mark that you are 'going' to the event.