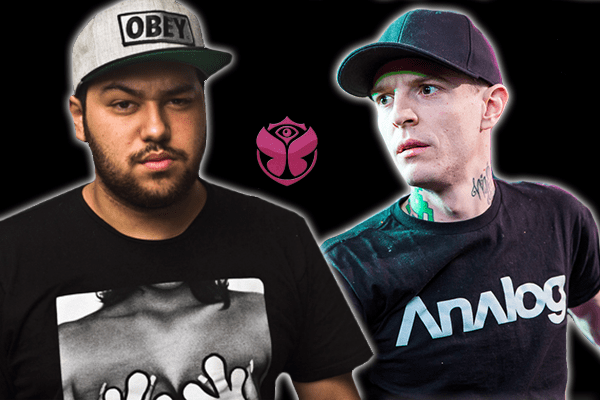 As many of you very well know, ID&T just concluded the first of a two weekend extravaganza celebrating the 10-year anniversary of Tomorrowland in Belgium. Though the weekend was surely filled with great memories and stunning shows, Tomorrowland did receive a dampener from one certain disgruntled artist in the form of the panda man himself—Deorro.
In case you haven't checked out Twitter over the weekend, Deorro furiously shared his sentiments over festival staff denying his agent a food token after seeing another artist receiving nine, suggesting his unfair treatment as a performer:
Ill be honest, and I mean legit honest. I can give 4 maybe 5 or 6.5 fucks about who u are, but if you treat guests like shit, you're shit.

— (@Deorro) July 18, 2014
The artist next to me is handed 9 food tokens without any problem, but I ask for just 1 for my agent who is helping me get sorted….NOPE

— (@Deorro) July 18, 2014
If you're hungry and you see somebody else right in front of you that's also hungry but has no chance to eat..YOU FEED THEM, you fuck.

— (@Deorro) July 18, 2014
I had the chance to play mainstage at one of the most iconic festivals in the world. But I care about people, and I make sure the eat. Sorry

— (@Deorro) July 18, 2014
Clearly Deorro spewed these tweets and several others out in a stream of consciousness, and was so upset to the point where he threatened to cancel his set. From what I could tell, it wasn't about the money or the food to him, rather the principle of treating your guests right. However, threatening to turn your back on a festival over food is a bit extreme.
Later on, Deorro does clarify exactly what happened, though. He was moreso upset that a staff member tried to disallow him giving his food to someone else, which changes the perspective a bit:
You think I asked for more, but didn't get more, so I canceled….No wayyyyyy I am NOT that person. Now I see how this all looked..

— (@Deorro) July 18, 2014
Don't make it a big deal when I give the food you gave me to someone you tried selling it too. I don't like to see my people hungry. Get it?

— (@Deorro) July 18, 2014
I do believe Deorro overreacted in not wanting to play one of the most famous international dance music festivals over a dispute on complimentary food. Upon this explanation though, it does seem miserly of that staff member to stop Deorro from giving his food to his manager. It is Deorro's food after all, and if he's not going to eat it and wants to give it to his hungry agent, passing that food along shouldn't be a big deal, therefore Deorro had every right to feel upset over those questionable ethics of the hospitality staff.
This situation teaches us three valuable lessons:
One, we've seen an example of the greed that apparently exists in the festival industry. Hospitality is huge whenever you want to leave a lasting impression on artists that perform at your event—they want to feel welcomed and appreciated for coming. Food, especially just for one manager, shouldn't be a problem. And the fact that the staff made this issue to begin with, especially when another artist received nine food tickets, means that they were acting greedily and treated Deorro unfairly. However…
Two, saying things in the heat of the moment can get you in hot water. Though Deorro was justifyably angry, he jeopardized a valuable relationship with a festival by taking his thoughts to social media. His problem was with one staff member, not an entire festival, so it wasn't very appropriate to blame uninvolved parties. Deorro is human though, and humans make mistakes; he has gone on to apologize for his excessive reaction and using a homophobic epithet in the process (that tweet has since been deleted). Taking the high road and admitting his fault shows the strength of his character. As it turns out, Deorro did not actually pull out of the festival and performed for many eager fans on Saturday.
Went to apologize to those I was rude too here and I admit my mistake. Now it's time to do this show. #LetsGo pic.twitter.com/NUmeY9ufeH

— (@Deorro) July 19, 2014
Three, last but not least, if you say foolish things on the internet, and you are a DJ, you will get trolled by Deadmau5. Without any mercy. In keeping with his trolling ways, Deadmau5 couldn't resist teasing and throwing in his two cents over this fiasco. Deorro is not going to live this one down for a while! Check out deadmaus5's Twitter page for more, but these are a couple glorious examples:
That's why I don't play tomorrow land. Coz food tickets.

— deadmau5 (@deadmau5) July 18, 2014
.@Deorro eat a fuckin snickers.

— deadmau5 (@deadmau5) July 18, 2014
Bout to hop on a private jet to Vegas… They better fuckin have skittles on board or I'm gunna lose my fckn shit. pic.twitter.com/9i91TtGOlw

— deadmau5 (@deadmau5) July 18, 2014
— deadmau5 (@deadmau5) July 18, 2014
Okay. Fuck this. I have never felt more violated and disrespected in my life. It's the principle. #noskittles pic.twitter.com/WdMNTn5nuv

— deadmau5 (@deadmau5) July 18, 2014
Lastly, how do you feel about this latest Twitter explosion? Do you think Deorro was within reason or out of bounds for his reaction? What, if any issues within the scene does it bring to light for you? Let us know in the comments!