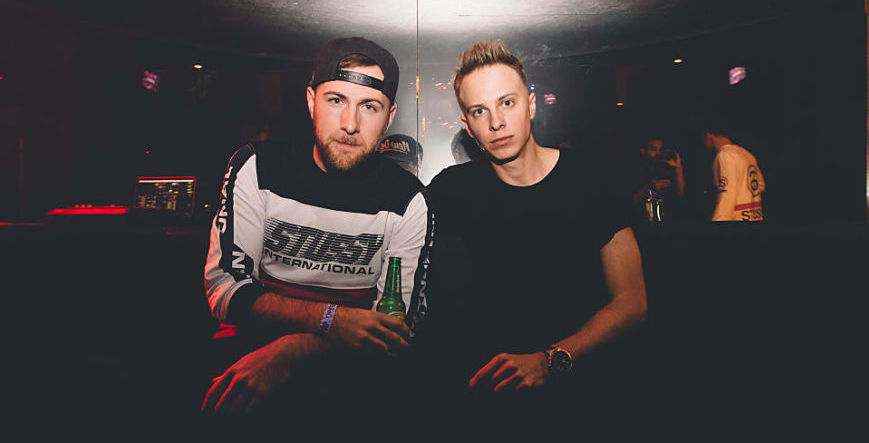 Lost Kings is a fairly new Progressive House duo based out of Los Angeles, California. The group is made up of Rob Gainley and Nick Shanholtz, aka DJ Dr. No. The two were both on their own paths in the music industry until they met exactly one year ago, on Rob's birthday to be precise. Shortly thereafter, Lost Kings was formed. The guys have made waves in the Progressive House side of EDM, producing several massive remixes of some well known tracks like "Latch," by Disclosure and even "Gecko" by Oliver Heldens. Even though the two have only been together for about a year, they are very quickly making a name for themselves with their wonderfully catchy remixes and edits. Recently, I got the chance to sit down and have a chat with them after they played in Atlanta. Without further ado, here's a little inside info about the two who make up the duo that is, Lost Kings.
---
So you guys are out of LA, correct?
Rob: Yeah, we are from LA; but originally, I am from Boston and he's [Nick] from Baltimore.
---
If I remember correctly, when we talked before your set, you said you two met just one year ago on your birthday?
Rob: Yeah, we met exactly a year ago. We had a mutual friend that linked us up. We were both kind of just doing our own thing at the time; and Nick was making significantly better music than I was.
Nick: *chuckles*
Nick: I really wanted to learn how to produce from him, and he wanted to learn how to DJ from me. When we got together on my birthday, we just decided to take a shot and work on a remix together and see what would happen. We then noticed that we had the same vision and goals, and then Lost Kings was born.
---
Out of the tracks that you have so far, what would you say was the break out track for Lost Kings?
Rob: "Latch." That was pretty much our tipping point. There were these DJ's that we knew, Two Friends, who gave us the email for BPM's program director. So I just said, "Fuck it! Let's do the same thing. "Latch" is a good enough record to be on the radio." We emailed him, and all he said was, "This is amazing!" And that's pretty much all we heard. So around two weeks later, he hits us up and says that it was debuting on BPM. This was around August of last year, and it has been in full rotation until now. That was just a cold email that we did ourselves. But that was probably the tipping point to where we were like, holy shit! We are on to something big. It still blows my mind to this day.
---
When I got to see you guys live, I noticed that you guys looked like you were having the time of your lives up there. It seems like you guys really like, no, love, what you're doing on stage.  Can you elaborate on that?
Nick: We always want to portray good vibes in both the studio and on stage. Like, we love this! This is all I've ever known is making music, and we are just living the dream. Having fun is what it's all about. So if they don't see us having fun, it's hard for them to have fun either.
Rob: We paid our dues, man. We were doing all these bullshit bar gigs and DJing open format. To be in the position we are now is like, something that we both dreamed of. I mean, we are playing in Atlanta at one of the best nightclubs in this city! Then we fly up to New York and play there tomorrow night, so this is all so surreal to us right now. We are going to give it 110% every freaking show until we can't anymore. Even if it's like 10 people in the room or 5,000 people, we are going to give the same effort and energy either way.
---
I agree, and I bet it still hasn't sunk in yet that you're both living your dreams.
Nick: No, it hasn't. I know this is small now, and we aren't exactly where we want to be yet. But if you would have told me a year and a half ago that I would be doing this right now, I wouldn't have believed you. We do stop and think about how blessed we have been so far, though. I still think about the moment that we were able to quit our day jobs. Like for the first six months we started working together, we would work around 16 hour days, all on music. I would be late to work all the time because of it, and it paid off because this is what we do full time now. I was doing all kinds of other genres at first, but when we met and started making dance music, it just clicked and we knew immediately this is what we were going to do.
---
Were you into electronic music before you started DJing and producing it?
Nick: I appreciate all kinds of music, and I keep my ear to the ground for everything out there. I always loved dance music, but didn't make it because I was doing other jobs at the time. It got to a point where I just said to myself, "Fuck this! I want to do what I want to do!" I was sick of working for other artists with their own agendas. I loved dance music and that's what I truly wanted to make.
Rob: Back when I started DJing, I would love to play electronic music. I really got into it when I was living abroad. But my love for it has grown so much over the years since then, though. But we both used to love electronic music even before we started making it ourselves.
---
You two have a lot of edits and remixes, but do you have any originals that you're working on?
Rob: We just did this remix for this awesome vocalist, Thief, who's out of Australia. And back in LA, about two days ago, we had a session with him to work on an original. It's going to be so dope. We have 3 originals right now that are being worked on. We also have about 6 remixes that are already completed, but they are just on a release schedule with different labels. What we really want to do is work on an EP. So we want to do one more track and make it a 4 track EP. It will have Progressive tracks, but also a couple that are different to show the other styles of electronic music that we are into.
Nick: We aren't trying to rush it, though. We want ours to be perfect in every aspect. I don't want to put something out that's rushed because I feel like it won't be as good if we don't take our time on it.
Rob: Yeah, we want everyone to know about an original that we put out. We don't want to rush it, and it just gets lost and fall on deaf ears. We want to make an impact on the scene. We want our originals to not only be on a station like BPM, but also be heard on something that's Top 40.
---
Who are your influences for producing EDM? I'm sure this is one of those questions that you have heard, and will hear a lot.
Rob: *laughs* As funny as this is going to sound, right around '09 when Guetta came out with "Sexy Bitch," that's what revolutionized the whole Top 40 pop with electronic music. Say what you want about David Guetta, but right around that time when he and Steve Aoki were blending that Top 40 sound with electronic music was what kind of got me into this. Of course, our true influences are Calvin [Calvin Harris], and Galantis. I think what those guys are doing is just amazing.
Nick: I've always loved up-tempo stuff. I really didn't start having that burning desire to produce until 'Graduation' came out with Kanye. I know that's not EDM, but that was one of those influences for me. But if you're talking about EDM, I'm going to go off what Rob said. You might laugh now, but Avicii was one of those for me. I don't care what anyone says, when "Levels" was hot, that was one of the most euphoric records in electronic music.
Rob: I really think those Top 40 dance records were just like, "Woah!" As corny as some of them may have been, that shit had such an impact on our generation that's into EDM now. Everyone got down to "Levels". I don't care who you are.
---
What are your thoughts on the big Deep House trend? Is this trend happening because certain styles of house might be dying off, perhaps?
Rob: This is what I say. There are always the trends that happen. Around two to two and a half years ago, it was like Trap and Dubstep was all you heard. But the one thing that stays constant is Progressive, and it will always be there no matter what.
Nick: Exactly! That melody will connect with people.
Rob: Everyone that we look at that we have to sort of pass to get to the point we want to be. They're all jumping ship right now to Deep House. I mean, you go do that, because we are going to keep doing Progressive and we are here to stay. I guess that Progressive might not be the cool thing, and some people might think that it is dying. But like I said before, it's the one style that has remained constant. But the response that we have gotten from our Progressive tracks says otherwise.
Nick: That's the challenge and we are going to embrace that challenge. That's why we experiment with making different types of records. One thing that will remain constant with us is that feel good vibe. It's all about emotion; whether we make something that's Deep House or Progressive. Emotion is what it's all about!
Rob: We want to make music that makes people remember a special moment in time when they first heard it, like "Sun & Moon." Every time you hear that track, it makes you think of that one time you were with this person in the crowd, and you can remember the exact moment like it was yesterday. That big Progressive melody will just bring you back to a time and that will stick with you. That's something we want to leave you with, not something super aggressive where you just leave raged as hell and seeing red.
---
Why do you think Progressive House gets so much negative feedback?
Nick: I think because there are a lot of producers that make it very generic. You have to be different, and that's one of the things that we strive to do. True authentic can be done, man. If we make good enough progressive music that's different and it feels good, then people will start to listen to it. We want to make music that's not like what these other guys are making that are, sort of, making it sound generic so-to-speak. A lot of people are just doing the same type of formats, arrangements, the same drops, and that shit doesn't fly with us. I love drawing inspiration from new records that are out there. But to be honest, there really isn't that much out there, as far as Progressive goes, that we want to put in our sets.
Rob: You're always going to catch hate, though. I got a lot of hate from doing the "Latch" remix. We were told by some people all these reasons why we shouldn't have released that track. Honestly, if we had listened to them I don't think we would be where we are right now, and we probably wouldn't have made it on the radio either. We would be sitting on our asses in LA still trying to make a name for ourselves.
---
Since Lost Kings has been doing this for only a year, what has been your most memorable show so far?
Rob: Personally, my favorite show that we did was this thing called Crush Fest in So Cal. It was an event that Insomniac put on for Valentine's Day. That shit blew my mind because there were around 4,000 people deep by the time our set was over. We got on the main stage, and that was just so amazing to be a part of. As far as cities though, Atlanta has to be one of our top so far. We couldn't have asked for a better crowd, and everyone seemed like they were really into it, which was awesome. That's what I look for in a city.
Friend in the room: By the way, that was impressive. You two are in the Trap music capital of the country and you guys still pulled that shit off like bosses! So hats off to you guys for real.
*laughter and clapping*
Rob: Hey, we threw a little Trap in the set to show a little love for ATL.
---
Last thing before we end this. I'll go back to both of you having so much energy on stage. Nick, I haven't seen anyone stage dive from a DJ booth from that high up. How do your feet feel? (Video below)
Rob: Yeah, man that was crazy. He said that to me while we were playing, and I was like, "Yeah, let's not do that!"
*laughs*
Nick: I'm not going to lie; I was literally scared to death. My feet feel fine, I didn't really get hurt, even though it looked like I did. I just lost my balance when I hit the floor. I was in the air and I was like, "Oh my God, I haven't hit the ground yet!" I knew it wasn't a good idea, but I wanted to do it anyways because I was just in the moment. I'm just glad I wasn't rocking my Converse because I would have had no support, and I definitely would have busted harder than I did. But that kind of stuff is the level of energy that I bring every show, though.
Check out the video of Nick's crazy jump from the decks below. Also, be sure to check out Lost Kings music on their Soundcloud, and check them out when they play at a city near you. They really do put on a great show!
Don't try this at home kids.

Posted by Lost Kings on Monday, April 6, 2015