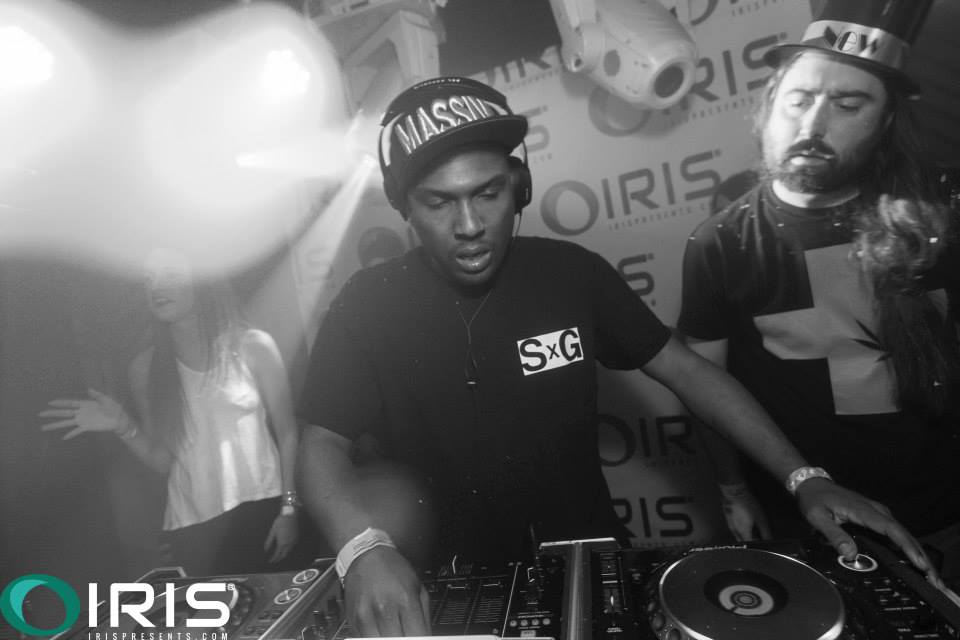 New Year's Eve was a night full of events in Atlanta, but there was one that seemed to stand out from the rest, and that was the Iris NYE Experience. Iris Presents has been a long-standing promoter in the city of Atlanta, and they are known for their parties. New Year's Eve for Iris has been a highly anticipated event over the last few years. This year, to ring in 2015, Iris Presents brought in a plethora of entertainment for their city. Headlining this epic New Year's celebration was Los Angeles native, 12th planet. Joining him was an all-star Atlanta lineup that included Mantis, MK Ultra, and Eddie Gold. Combining the best of Atlanta's DJs with one of the top dubstep producers, 12th Planet, for a New Year's Eve celebration made this night one to remember.
As midnight struck, 2014 was no longer, and 12th Planet rang in the New Year for an energized Iris crowd. The atmosphere was incredible throughout the main room. 12th Planet's bass-filled set made for a perfect way to kiss 2014 goodbye. The whole set from start to finish was full of his unique twist on dubstep. For those of you not familiar with 12th Plantet's sound, check out his latest mix below. It was very similar to the epic set that he played on New Year's Eve. You'll get a feel for just how hard this guy went that night.
Following that stellar performance was a triple header of Atlanta's top local talent, Mantis, MK Ultra and Eddie Gold. I don't think there was a person in the venue that was prepared for what those three acts were about to bring through the speakers. I had no doubt that these guys were going to absolutely bring everything they had to start off 2015 right, and they definitely exceeded my expectations. All three came up one after another and they all absolutely killed it, the room seemed like it stayed completely packed throughout the remainder of the night.
There was something else that happened during this night that I feel shouldn't go unnoticed. South Carolina's Abe Abdelnour, better known as his stage name, Ra, had a very special set that night as well. Just after Christmas, Ra's dear friend and hype man, Taylor Miller, tragically passed away in a vehicle accident. Miller was beloved not only to Abe, but to many others within the EDM community of Atlanta and Greenville. That side room was so packed with everyone there to celebrate in memory of Taylor. I caught up with Ra to get his thoughts on his special tribute set. "Taylor supported what I do more than anyone else, and it was hard for me to perform after his death," Ra stated. "It [Iris NYE] was my first time back on the tables. I had promised him, his family, and everyone else that going forward, I will be more driven to reach my goal and to honor him for all the support he gave me," added Ra. When I asked him how he felt about the whole thing, he said, "I was so touched by the overwhelming support from everyone in that room that night. I don't even live in Atlanta, yet so many people gathered to honor him. His family and I will be forever grateful for that moment."
What a way to ring in the New Year? This night brought so many people together. We not only had a celebration to kick off 2015 with a killer lineup; but we also had an emotional moment as well in remembrance of a fallen loved one in our EDM community. Iris really lived up to its name that night with making everyone feel like family, all united as one with incredible music, production, and vibes. Check out the recap video below and see what you missed if you didn't go, or relive that awesome night if you did attend.
IRIS – 2015 New Years Eve ft 12th Planet from IrisTV on Vimeo.