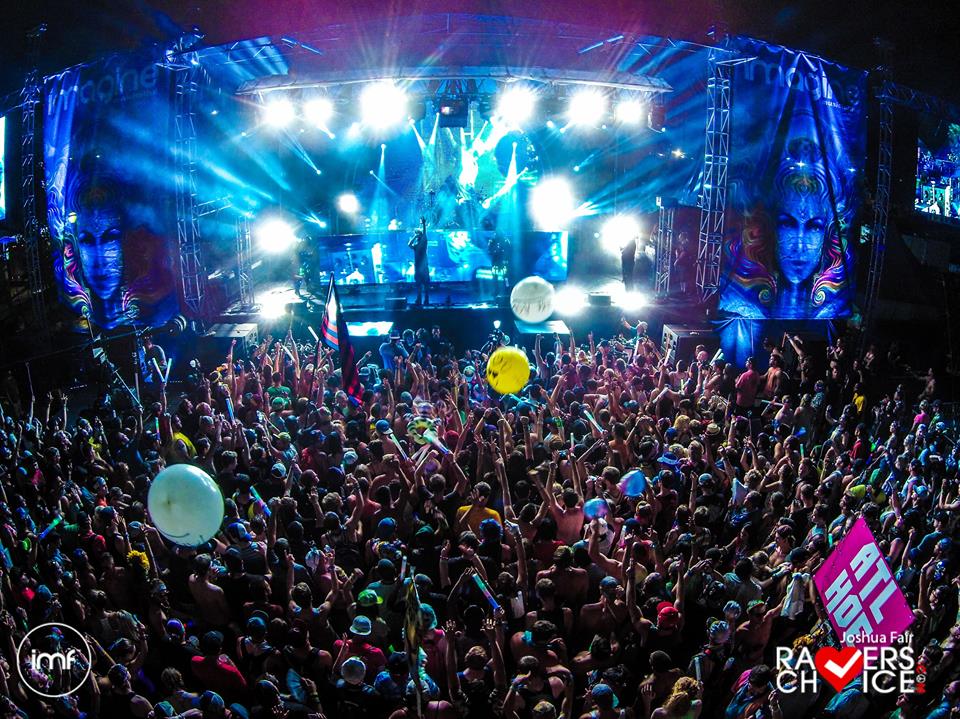 Labor Day weekend was one for the books for the city of Atlanta, Georgia. The city that's "too busy to hate" was just that during the Labor Day holiday, busy all over. The city was jam packed from the historic Dragon Con, to sporting events and other festivities. However, there was one event that was definitely the talk of the town, and that was Imagine Music Festival. This was the inaugural year for the festival in Atlanta that was founded by Iris Presents, an EDM event and promotion company based out of Atlanta. This two-day electronic music festival took place in the historic Masquerade Music Park in midtown Atlanta.
Imagine Festival had been highly anticipated since we all heard about it coming to Atlanta during late spring of 2014. The lineup was filled with bass, and consisted of some heavyweights in EDM. The headliners for Imagine Festival included Destroid, Adventure Club, Fedde le Grand, and Seven Lions. There were also many other incredible artists sprinkled in like Infected Mushroom, Rusko, Paper Diamond, and Shpongle. See the full lineup below:
The festival was nestled in a great location. I really enjoy going to music festivals in the Masquerade Music Park because of its beautiful layout and awesome scenery. The festival consisted of three stages that were spread out across the park. The main stage was in the middle, and then there were two smaller stages surrounding the main stage. As you walk in the main entrance, there were vendor tents selling local crafts and merchandise. The food and beverage was another good quality of the festival. Having decent food can sometimes make or break a good festival experience. While it wasn't the best ever, it still was something good to snack on that was not your cliche hot dogs and cardboard pizza. The drinks were also pretty decent. They were not terribly expensive like you would expect at a music festival; and water was readily available, including a free water station for refilling bottles and camelbacks.
The vibes within the festival were incredible. As I walked around each stage, there were smiling faces and people dancing all over. You could just feel the good energy in the air, besides the muggy heat during a typical late summer evening in the south. As each act progressed on both days, the energy was through the roof. I was interested in seeing how this bass-heavy lineup was going to play out. It definitely made the festival that much more enjoyable.
On Saturday, Wick-It and Shwayze absolutely killed it on the secondary Amazonia stage. It was an interesting transition from heavy bass with Wick-It, to a more laid back live band with Shwayze. Later that evening, the main stage was where the magic happened for the rest of the night. Seven Lions was mesmerizing as usual with his oh-so amazing melodic dubstep set. One of my favorite parts during his set was when he threw in Queen's, "Bohemian Rhapsody," which had the whole crowd singing the song. Fedde le Grand did not disappoint as well. He kept the energy high with his awesome house beats. Both Seven Lions and Fedde were an awesome way to close out the first day of Imagine.
Day two was definitely my favorite day of the weekend. Sunday was the day we had all been waiting for. This part of the lineup was definitely full of bass. Paper Diamond was one set that stood out to me. He threw down some awesome trap beats, and he pretty much set the tone for the rest of the night. Adventure Club was impressive. I have seen them several times within the last year, and their set at Imagine blew us all away. They played a whole array of genres, and they seemed to have went back to their roots by playing a little more dubstep than usual. If you thought that was going to set the bar high for the final night, you were wrong! Super group DESTROID took the stage to close out the festival. I have never witnessed so much bass in my time covering music festivals. Faces were melted, heads were banging, and the bass was ground breaking, literally. I had never seen DESTROID live before, and I can say it was one of my favorite performances of late. I think everyone in that crowd had to pick their faces back up and check their pulse after that set by DESTROID.
Overall, I believe Imagine Music Festival was a success. The vibes were awesome, the crowd was wonderful, and all the acts were something to remember. I had a great time at this festival. I really enjoyed covering Imagine, and I look forward to attending this festival again next year. The festival was definitely beyond what I had imagined!