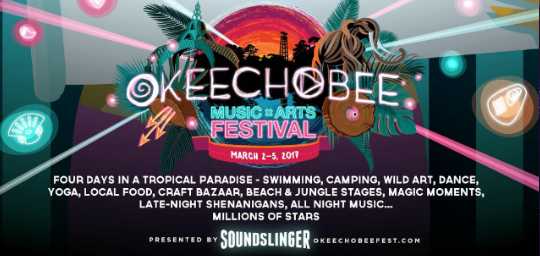 Soundslinger is proud to announce the initial lineup for the 2017 Okeechobee Music & Arts Festival, a diverse, multi-genre event celebrating the start of spring with world renowned and on the rise performers, art installations to inspire with awe, yoga and meditation to cleanse the soul, great food, and friends new and old to enjoy it all with. The second annual edition of North America's most exciting new festival will take place from Thursday, March 2nd through Sunday, March 5th at Okeechobee, Florida's beautiful Sunshine Grove, located on over 600 acres of pristine grasslands, clear lakes, and exotic tropical woodlands. Featuring performance from Kings of Leon, Usher & The Roots, Bassnectar, The Lumineers, Flume, Wiz Khalifa, Pretty Lights, Solange, Rae Sremmurd, Young The Giant, Porter Robinson (Live), Anderson .Paak & The Free Nationals, and many more, the 2017 Okeechobee Music & Arts Festival will build upon the unique attributes that made this past spring's sold out event one of the most talked about live music experiences of the year.
Watch the Okeechobee 2017 lineup announcement video.
A limited quantity of both 3-day and 4-day Early Bird festival tickets as well as Early Bird VIP packages are on sale now via OkeechobeeFest.com. Early Bird 3 day GA price is $229, Early Bird 4 day GA price is $249, and Early Bird Eternal Sunshine VIP price is $599. Once the limited quantity of Early Bird tickets are sold out, additional GA tickets will be available at the Tier 1 price. The full first wave artist lineup and festival AdMat can be found below. Additional major artists and other news to be announced in the coming weeks.
Purchase Early Bird Tickets to Okeechobee Music & Arts Festival 2017 while supplies last.
Visit OkeechobeeFest.com for complete ticketing details and payment plan options.
It is quite a challenge to stand out in today's festival landscape, but with the inaugural event this past spring, the Okeechobee Music & Arts Festival did just that and more. From legendary performances at the first ever PoWoW! (Read about 2016's PoWow! Feat. Arcade Fire's Win Butler, Miguel, Hall & Oates' John Oates, Mumford & Sons, Skrillex, Mac Miller, Preservation Hall Jazz Band and more at Rolling Stone), to signature venues like the lakeside sandy beach of Aquachobee, and the otherworldly confines of Jungle 51 hidden within a forest of luminescent trees, Okeechobeewowed a sold-out gathering of open-minded music fans with a weekend worthy of its position as the first major event of the music festival season.
"While an incredible lineup featuring everyone from Mumford and Sons and Kendrick Lamar to Robert Plant and Skrillex kept us Okeechobeings on a dynamic and literally nonstop musical journey over the course of the festival's four nights, it was the overall experience — the camping, the art, the beach, the costumes, the nature and weather, the yoga and spirituality, and of course the smiling, chilled-out people from all walks of life — that made the festival the magical bubble in space-time it was." – Miami New Times on Okeechobee 2016
Watch the Okeechobee 2016 After Movie
Okeechobee's festival site has been carefully prepared to capture the natural beauty of the sunshine state, and give the festival an intimate feeling. Building upon the epic experience that greeted patrons in its inaugural year, Soundslinger has further invested in new art, amenities and infrastructure for Okeechobee's second annual edition. An assortment of spectacular multi-media immersive art installations dot the landscape, including unique pieces commissioned specifically for the festival with an emphasis on upcycled materials. Patrons will stumble upon large scale structures and small intimate interactive pieces as they experience the artistic heart and soul of the festival in ChobeeWobee Village, or spend time exploring the majestic Sunshine Grove through every hidden hammock, grove of palms, and secret pathway throughout the festival site. When hunger strikes after an afternoon of dancing, a wide array of locally sourced treats from some of Florida's most popular food trucks and artisanal purveyors will be on hand to satiate the most voracious appetites and discerning palates. Meanwhile, Yogachobee offers a place for healing, exploration, and reflection on the epic musical moments and experiences, with yoga, meditation, permaculture workshops, speakers and more.
"We are excited to build upon the success of OMF 16. This year's lineup is great and we have more surprises to come. We are opening up more of our amazing property for people to explore, and continuing to invest in art and the overall festival experience. Can't wait to open the doors on March 2nd!"
– Kevin Collinsworth (Soundslinger CEO)
In addition to continuously improving the festival operations, logistics & overall fan experience, an ongoing endeavor of the Okeechobee Music & Arts Festival is to do everything possible to respect and cherish the natural beauty of the festival site, the surrounding area, and the earth as a whole. Each year the festival will make progress towards the eventual goal of being a carbon neutral event while utilizing as many biodegradable, repurposed, recycled & sustainable materials as possible.
4-Day GA Passes include parking, tent camping, and access to all four days of the festival.  Fans can make the most out of their weekend with the Eternal Sunshine VIP Experience, a variety of Tent and RV Rental options, the Eternal Sunshine VIP Boutique Camping Experience, or a Super VIP Luxury Tour Bus package called The Grand Kachobee. These ticket and lodging packages are customized to give each fan an experience that they will never forget.  Detailed information is available on the website.
For tickets and information, go to www.okeechobeefest.com
2017 Lineup Announcement Video: https://youtu.be/uwa7EOOj04k
Press photos:  Okeechobee Press Photos

Facebook: facebook.com/okeechobeefest
Twitter: twitter.com/okeechobeefest
Instagram: tinstagram.com/okeechobeefest
                  @okeechobeefest
Full Initial Artist Lineup for Okeechobee Music & Arts Festival:
Kings of Leon
Usher & The Roots (A Rare Co-Performance)
Bassnectar
The Lumineers
Flume
Wiz Khalifa
Pretty Lights
Solange
Rae Sremmurd
Young The Giant
Porter Robinson (Live)
Anderson .Paak & The Free Nationals
Griz
Cold War Kids
Blood Orange
Mike Posner
D.R.A.M
Bleachers
SOJA
The Revivalists
Snails
Mac Demarco
Waka Flocka Flame
Sleigh Bells
Snakehips
Louis The Child
The Growlers
Moon Taxi
The Knocks (Live)
Gallant
Russ
Joey Purp
PoWow! A Mashup Collaboration with Special Guests TBA
BADBADNOTGOOD
Joy Wave
Allen Stone
George Clinton and Parliament Funkadelic
FKJ
Galactic
The Japanese House
Lewis Del Mar
Bipolar Sunshine
Tennyson
Jacob Collier
Haywyre
Whethan
Louis Futon
Okeechobee Gospel Soul Experience: Blind Boys of Alabama, Allen Stone and More
Khruangbin
Con Brio
Nightmares on Wax (DJ Set)
OTT
DVS1
Kaiydo
Futurebirds
Rainbow Kitten Surprise
Jacob Banks
TAUK
Ryan Elliott
Perpetual Groove
Rob Garza (DJ Set)
Escort (DJ Set)
Jacuzzi Boys
Cereus Bright
Merchandise
VHS Collection
Donna Missal
Gaudi
Sebastian Mullaert aka Minilogue Live
Julio
WYK
CBDB
AND MORE TO BE ANNOUNCED!