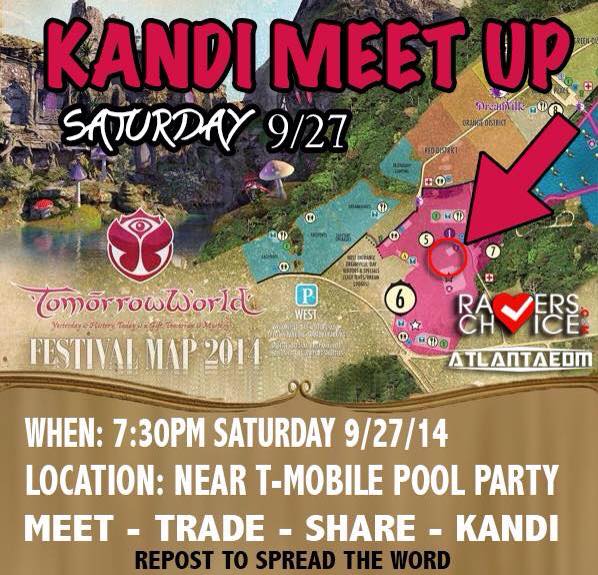 Meet up's at music festivals happen all the time, whether they be large or small. Most of the time, a meet up consists of a specific spot on the festival grounds. They can literally be found anywhere throughout a festival. The one common factor for each meet up is that they are stationary. That is all about to change for this weekend at TomorrowWorld. The crew here at RaversChoice.com and local promoter Atlanta EDM has teamed up to create a first ever mobile meet up for this festival. This is unique of its kind because this meet up is designed to come to you!
How this will be conducted is by having a specially designed totem made out of kandi with LED lighting. The sign has the official RaversChoice logo on one side and "Kandi Meet Up" on the other. It will be easily seen throughout any crowd at TomorrowWorld. The meet up will begin at the main stage near the T-Mobile Pool Party around 7:30pm. Once the meet up begins, we will move around from stage to stage. We want to make it to where everyone will have a chance to hang out, meet one another, trade kandi, and hopefully make new friendships. This mobile meet up will last through Saturday night. We will even be walking through Dreamville after the venue closes. Below is a map of  information about where our mobile meet up will begin, and a picture of our awesome meet up totem we created:
The whole reason behind this is simply because we don't want anyone who would like to be a part of this meet up to be left out if they are at another stage from where we will start. As mentioned earlier, this meet up is designed to come to you if you are at any location in the festival. We are excited to make this happen, and we hope to get the opportunity to meet many new friends at TomorrowWorld. We don't want to be seen as just a blog, we want to create a personal relationship with the many people that we deliver our content to on a daily basis. We would love for any of the People of Tomorrow to come and find us along our journey and make some memories together!