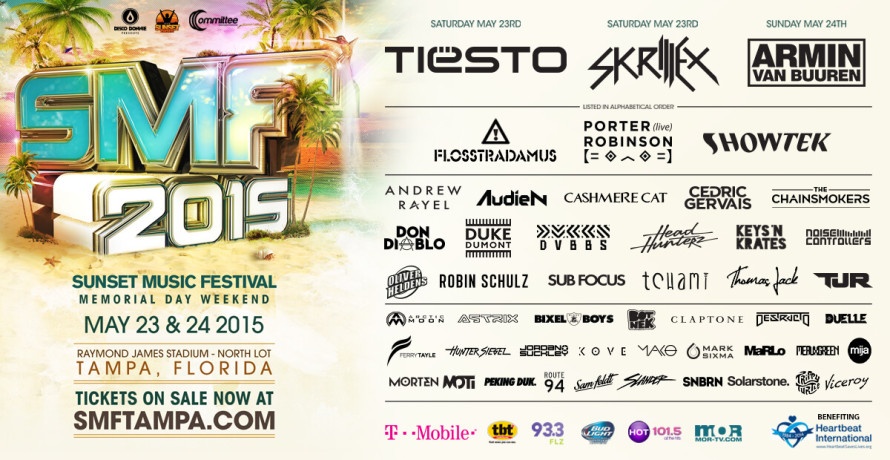 Sunset Music Festival is just around the corner. This year's lineup is jam-packed with some huge names in EDM and a broad range of subgenres including Deep House, Dubstep, Electro, Hardstyle, Trap, Tech House and even a little Tropical House sprinkled in. No matter what tastes in electronic music that you have, Sunset Music Festival has got you covered!
Sunset's lineup for this year is just chock full of talent. There are several performing artists on the bill who are a definite must-see aside from your main headliners, Skrillex, Tiesto, and Armin. We have compiled a list of 10 performing artists for both day 1 and day 2, just for you. Along with the artist names, we added some of our favorite tracks or mixes for each one listed to give you an idea as to why we think you should see them live. Instead of telling you why you should go see them live, we would much rather you hear why. Please note that these are not in any ranking order, they are just listed alphabetically. While there are



Day 1 :

Andrew Rayel (Progressive Trance) –



Destructo (Tech-House/Techno) –



Mako (Progressive House)-



Mark Sixma (Trance)-



Mija (Deep House/Future House/Bass)-



MOTi (Electro House)-




Oliver Heldens (Deep House/Future House)-



SNBRN (Sunset House)-



TJR (Melbourne Bounce/Electro House)-



Tchami (Future House)-
---



Day 2:

Botnek (Electro House)-



Don Diablo (Future/Groove House)-



Headhunterz (Hardstyle/Electro)-



Hunter Siegel (Future/Groove House)-



Keys N Krates (Bass Music)-



Robin Schulz (Deep House)-



Sam Feldt (Deep House/Tropical House)-



Showtek (Big Room/Electro House)-



Slander (Trap)-




Viceroy (Tropical Disco)-
Sunset Music Festival is quickly approaching. If you have not yet purchased your tickets, the prices are going to increase on Friday, May 15th at midnight! Be sure to head over to SMFTAMPA.COM as soon as possible to secure your tickets at the lowest price possible before they increase to a higher price.