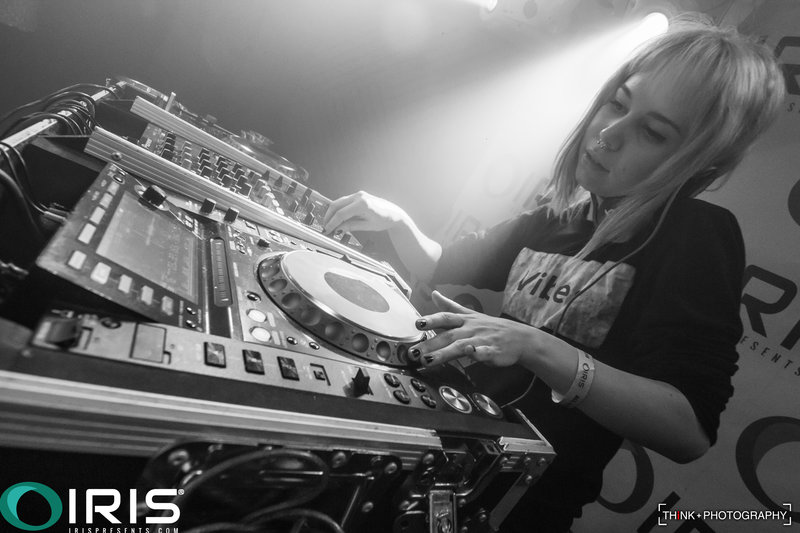 Imagine that you've just arrived at your very first rave. The line to get inside is 40 people deep, sub bass is rattling the metal structure of the venue, and you're struggling to figure out how to pronounce the "j" in Mija [Mē-hä]. After you've been patted down by security and manage to separate your arm hair from that sticky white flap on your wristband, you finally get to enter Rush Lounge and witness OWSLA's newest DJ in action: Mija
She was born like this, into this—a splash of blue hair in the crowd. Her All-Black-Anything wardrobe accentuated by the tye-dye, "Vibes" shirt from Electric Family. "Most of the shirts I wear are from Above Heaven," she said, a clothing company out of Phoenix, her home town. Arizona's electronic music scene is significantly smaller than Atlanta's, but it has the same vibe as Los Angeles where Mija currently lives. Although not the type to actively try and be the center of attention, you can't help but notice her. Clubs are her natural habitat, the Mixer & CDJ are her instruments of choice. She pulled an all-nighter after finishing her second show of the night before, snagging what little sleep she could on her flight from Los Angeles to Atlanta. Her internal clock runs on a 36 hour schedule, and she would probably loath working some 9-5 job.
But who is Mija? In high school, she was that My Chemical Romance-looking chick that showed you screamo bands worth listening to; she introduced you to new music that you'd never heard of before, and she was probably the reason that you discovered Dubstep in the first place. In person, however, Mija is just Amber Giles. The cool thing about Amber is that she's 100% herself, a rare trait in a scene where many people pretend to be anything but their true selves. Think about it: at raves there are all these people frolicking about, draped with neon clothing, introducing themselves as Cloud or Rainbow or Lotus Petal. Spare me. Too many people in the music industry try to climb the rave pyramid by faking their way to the top. Talking with Mija is refreshing because she isn't trying to be anybody but Amber Giles.
A lot of Mija's progress over the past year was ignited by Skrillex's tag set with her at Bonaroo back in 2014, but make no mistake, her success has been fueled by her love of music and her ability to feel comfortable in her own skin. As a Grammy award winning musician that has raised the bar for electronic music, Sonny Moore's opinion carries great weight, but it's no surprise that Sonny has shown support for this talented young DJ. Mija has a great ear for music, and her live sets are SPECTACULAR. She played the best trap and deep house set Atlanta has seen so far in 2015. Tempos meant nothing to her. When Mija's set was over and Eddie Gold began to take the stage, Amber mentioned to me that she swapped between Trap and Deep House a total of 4 times during her 2 hour mix. Mija played several songs that were atypical for the environment she was in, yet she did so seamlessly and with such style that she had the audience eating out of the palm of her hand. Her Motto? "F*ck Genres." Why does every DJ and his "squad" thinks that they can rock the Quad (may it rest in peace) by playing 2 hours of straight trap bangers? OR NAH
Amber Giles was signed to talent agency AM Only earlier this year, the same label as Zedd, Grandtheft, Krewella, Mr. Carmack, and all your other favorite acts. She has planned to release several singles with multiple big name artists over the next few months, so keep an eye on her. Amber Giles has a very interesting future ahead of her, and if one thing's for sure, once she drops her first EP in 2016, Nothing's Gonna Change Her World.
Check out her latest mix on Republic Radio below to get a little taste of Mija's style.