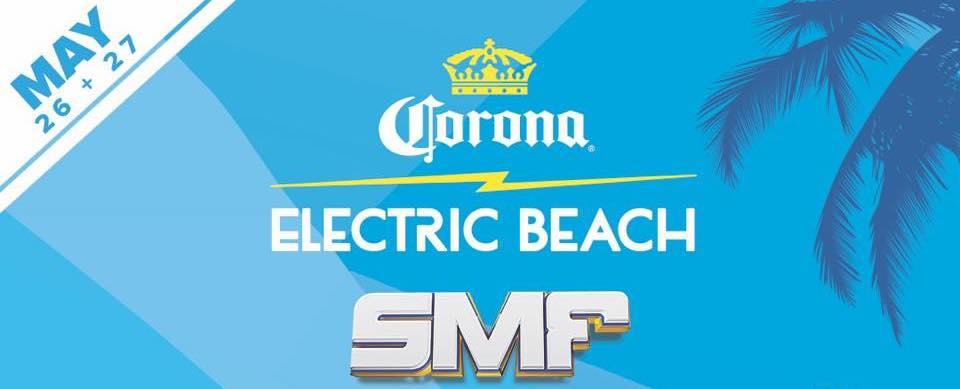 (Tampa – Florida) To those who are planning to attend SMF this year, prepare yourself for some sexy beats and the beach from Corona Electric Beach at Sunset Music Festival brought to you by Corona Extra, Sunset Events, and Disco Donnie Presents. This recently added stage, announced earlier this month, is going to provide all the summer vibes at SMF featuring a stacked lineup of some of the grooviest names in dance music, plus a few local and regional DJ's to the Tampa Bay Area on Memorial Day weekend 2018.

The Corona Electric Beach stage has been touring around to different festivals across the country over the past few years. Some might have seen this special stage set up at festivals like EDC Las Vegas and Orlando, Spring Awakening, HARD Summer, Escape, and Nocturnal Wonderland. This will be a first for SMF, and fans are certainly in for a treat. The lineup for Corona Electric Beach at SMF is just as exciting as the beach-like, summer vibes this special venue has to offer. The stage will be hosted by a fantastic group of some talented house music acts. Fans of all things house music will get their fill of the underground four-on-the-floor next weekend at Raymond-James Stadium all while experiencing it at a beach-themed environment.

For day one on Saturday May 26, fans will hear some of the best of tech house tunes from Carabetta and Doons, Dillon Nathaniel, Golf Clap, and Tampa's own, Nate Verde. Headlining the Corona Beach Stage will be the one and only, Anna Lunoe. Some names to keep in your radar for day 1 are Golf Clap, Dillon Nathaniel, and Anna Lunoe, and don't sleep on local Tampa Bay house DJ, Nate Verde.

Sunday May 27 goes a little deeper, and will stay there with those wonky bass lines and catchy house rhythms. The DirtyBird camp will be taking over Corona Electric Beach on Sunday with Wiess, Codes, Walker & Royce, and Sacha Robotti. And to give Corona Beach a little flair, SMF changed it up slightly by adding D3V and Even Evolution, plus YehMe2 to the headlining spot for day 2. Both days with this special stage at Sunset Music Festival should satisfy all the house music needs for those house-heads out there in search of the groove.

Since this stage is sponsored by Corona Extra, only those attending SMF who are 21+ will be abele to partake in the activities at Corona Electric Beach. For more information on Corona Electric Beach at SMF, see the full set times schedule below. If you haven't purchased your tickets for Sunset Music Festival 2018, there's still time to do so. Head over to www.smftampa.com for information on how to purchase passes.